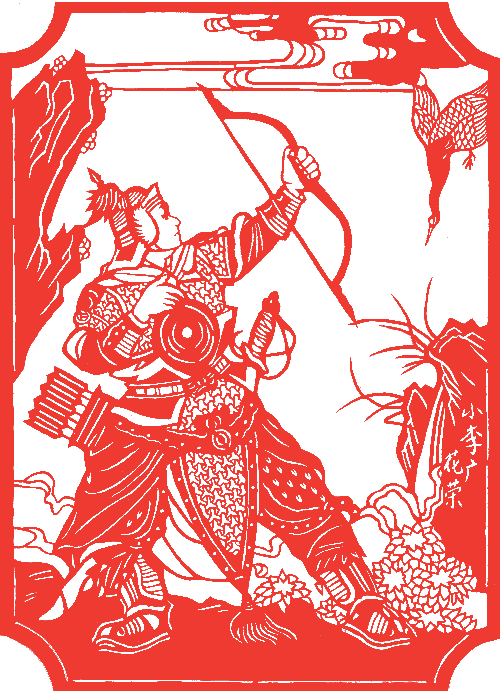 Nicknamed the 'Little Li Guang' (小李广), Hua Rong (花荣) is a major character in the epic Chinese tale, the Water Margin. He is well respected for his loyalty and courage in battle.
In the novel, Hua Rong is described as having red lips and white teeth, a handsome and youthful face, a narrow waist, and broad shoulders. He had the ability to tame wild steeds, but is especially renowned for his archery skills, and could pierce a willow leaf with a well-aimed arrow from a distance of over a hundred steps. He is named after Li Guang, a Chinese general during the Han Dynasty also renowned for his archery skills. In Chinese tradition, Hua Rong is often attributed to be sharp, refined, and quick, like the bow and arrow.
Being extremely charismatic, Hua Rong is influential in persuading other warriors to join the Liangshan cause, most notably Qin Ming, a warrior of great strength and reputation. In fact, Qin's entire family is slaughtered by the imperial troops when they learned of his defection, and this left Qin deeply embattled for some time. However, he is soothed slightly as Hua Rong's younger sister was granted to him in remarriage.
Before joining the Liangshan cause, Hua Rong was one of the military commanders of Qingfeng Fort in Qingzhou, serving the Imperial Court. Once, Hua invited Song Jiang to join him. While Song was on the journey, he was kidnapped by the bandits of Qingfeng Mountain. The chief, Yan Shun, recognised his identity and had heard of his reputation before so Yan released Song. Also, Wang Ying from Qingfeng Mountain had also kidnapped a woman, who was Liu Gao's wife. Liu Gao was the official in charge of Qingfeng Fort. Song Jiang persuaded the lustful Wang Ying to release Liu Gao's wife and continued on his journey to meet Hua Rong. Later, Liu Gao's wife sought revenge by asking her husband to have Song Jiang arrested for being in league with the Qingfeng bandits.
Hua Rong wrote a letter to Liu Gao demanding Song Jiang's release. Liu refused and then Hua brought his soldiers to Liu's place and rescued Song Jiang. Song Jiang and Hua Rong were later caught again when Liu Gao sought help from the governor of Qingzhou, who had sent Huang Xin to help. Huang Xin and his troops were escorting Song and Hua as prisoners pass Qingfeng Mountain, when Yan Shun and his bandits attacked and rescued Song and Hua, while Huang Xin escaped in a frenzy.
Infuriated, the governor sent Qin Ming to subdue the Qingfeng bandits. Qin fell into Song Jiang and Hua Rong's trap and was caught. Qin initially refused to join the bandits but was later forced to join eventually after his entire family was slaughtered and their bodies hung outside the city walls. Having reached a point of no return, Qin persuaded Huang Xin to join them as well and open the gates of Qingfeng Fort. The Qingfeng bandits stormed into the fort and killed Liu Gao and his family. Then, they went to Liangshan Mountain with Song Jiang leading the way.
Hua Rong eventually became one of the eight vanguard generals of the Liangshan cavalry and 36 Heavenly Spirits, and was massively involved in many of the military campaigns against the imperial troops. After the Liangshan bandits had obtained amnesty from the Imperial Court, Hua followed the heroes as they went on campaigns against the Liao Tartars and the southern rebels such as Fang La. Hua was one of the few lucky heroes who survived the campaigns and made it back to the Court. Due to his contributions, Hua Rong was given a high-ranking military post. However, hearing that Song Jiang and Li Kui were framed by corrupt officials and had committed suicide, Hua Rong was filled with grief. Hua and Wu Yong went to Chuzhou, where they hung themselves from a tree beside Song Jiang's grave.