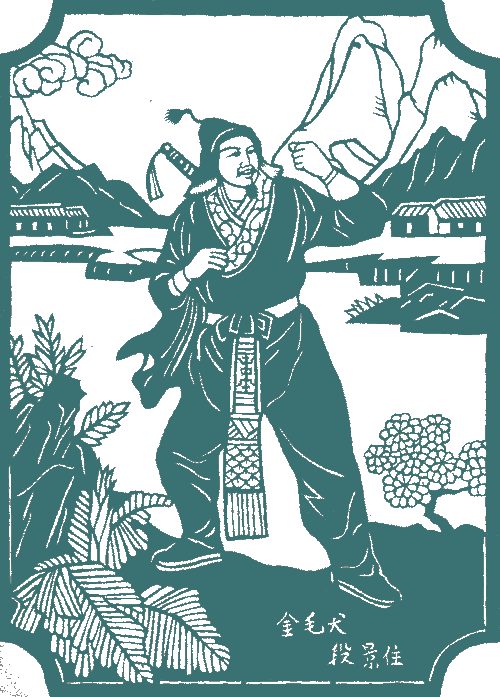 Duan Jingzhu (段景住) is a character in the epic Chinese novel the Water Margin.
Duan was from Zhuozhou, Henan. He had red hair and a yellow beard, earning him the nickname 'Golden-haired dog' (金毛犬).
Duan used to steal horses from the north and once, he managed to steal a precious steed known as the 'Jade Lion' from a Jin prince. He planned to present the horse to Song Jiang but on his way to Liangshan, the 'Jade Lion' was stolen by the Zeng Family Village.
At the same time, Song Jiang had just returned from a campaign and met Duan. Duan told Song Jiang about everything and Song Jiang sent him back to Liangshan. Chao Gai heard about the arrogance of the Zengs and their attitude towards Liangshan and decided to personally lead his heroes to attack the Zeng Family Village and teach the Zengs a lesson. Unfortunately, Chao was killed by a poisoned arrow from Shi-wen Gong.
Later, Duan Jingzhu, Yang Lin and Shi Yong went to the north to purchase horses for Liangshan and on the way, their horses were stolen by Yu Bao-si, who presented the stolen horses to the Zeng Family Village. Song Jiang led the Liangshan heroes to attack the Zeng Family Village and subdued Yu Baosi, conquered the Zeng Family Village and avenged Chao Gai, and also got back the stolen horses.
Duan Jingzhu became one of the leaders of the Liangshan infantry and 72 Earthly Fiends. After the heroes had obtained amnesty from the emperor, Duan followed them on their campaigns against the Liao Tartars and southern rebels, making great contributions to the imperial court. During the Fang La campaign, Duan followed Ruan Xiaoqi and the Liangshan navy on a naval assault on the Qiantang River. Unfortunately, the strong winds swept the boats into the open sea and the boats sank. Duan was not a swimmer and eventually drowned.