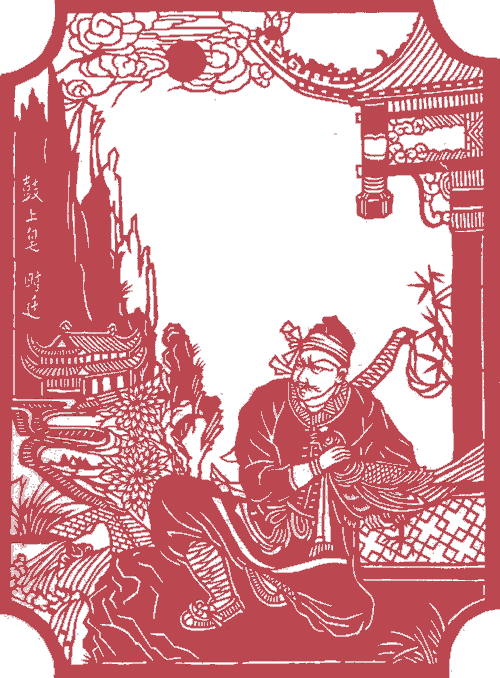 Shi Qian (时迁) is a character in the Water Margin.
Shi Qian was from Gaotangzhou. He had an ugly appearance, but was very fit and agile, nimble and moved very quickly. Once he went to Jizhou and stole for a living. Due to his excellent thieving skills, he was nicknamed 'Flea on a drum' (鼓上蚤).
Once, Shi Qian ran into some trouble with the county office in Jizhou, but was eventually saved by Yang Xiong. Later, Yang Xiong killed his adulterous wife and planned to join the Liangshan band, and at the same time, Shi Qian had just raided a tomb and witnessed the whole scene. Shi threatened to inform the government that Yang had killed his wife if Yang did not agree to take him along to Liangshan. Yang Xiong, Shi Xiu and Shi Qian then made their way to Liangshan to join the band.
On the way to Liangshan, they passed by the Zhu Family Village and stayed in an inn for the night. Shi Qian stole a chicken and was captured by the Zhus. Yang Xiong and Shi Xiu went to seek help from Li Ying but did not succeed and eventually the Liangshan heroes came into the picture. In the end, the Liangshan heroes managed to conquer the Zhu Family Village and rescued Shi Qian.
Shi Qian played an important role when Xu Ning was recruited in the Liangshan band. Shi Qian was put in charge of stealing Xu Ning's family heirloom, a suit of armour which was said to be able to protect the user from all kinds of weapons. Shi Qian lured Xu Ning all the way to Liangshan and made him join the Liangshan band. Xu helped the Liangshan heroes to win Huyuan Zhuo's chain-linked armoured cavalry.
Shi Qian became one of the leaders of the Liangshan infantry and one of the 72 Earthly Fiends. After the heroes had been granted amnesty by the emperor, Shi Qian followed them on their campaigns against the Liao Tartars and southern rebels, making great contributions to the imperial court. He was one of the few lucky survivors after the campaigns, but he died of a disease which affected his intestines on the way back to the capital city.
For a better understanding for westerners and as a fashionable interpretation, Shi Qian can be regarded as an "Ancient Chinese Spider-Man", an "Chinese Splinter Cell Agent".