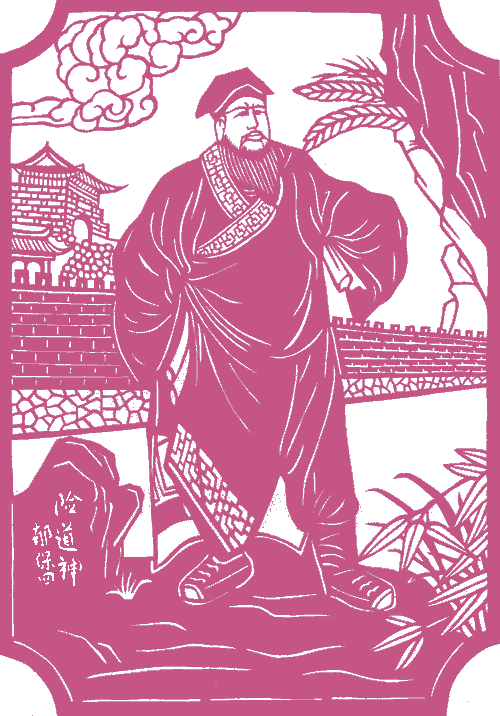 Yu Baosi (郁保四) is a character in the epic Chinese tale, the Water Margin.
Yu Baosi was big-sized and tall, resembling a giant, thus earning him the nickname 'God of the dangerous road' (险道神). He gathered a bandit army of about 200 men and robbed for a living in Qingzhou.
Duan Jing-zhu once bought about 200 fine horses from the north and arrived in Qingzhou, but Yu Baosi robbed the horses and presented them to the Zeng Family Village. Chao Gai led the Liangshan heroes to attack the Zeng Family Village and was killed by Shi Wengong.
Song Jiang received news about it and was furious, so he led the Liangshan heroes to attack the Zeng Family Village. The Zengs lost a few battles, with Zeng Tu and Zeng Suo being killed in the battles. The Zeng headman decided to plea for a ceasefire, which Song Jiang agreed on a few conditions. The Zengs have to hand over Shi Wengong, Yu Baosi and the horses they had stolen. The headman returned all the horses stolen except the Jade Lion steed. Song Jiang later was distracted by enemies coming from Qingzhou and Lingzhou, thus he had to stop the attack on the Zeng Family Village.
Song Jiang managed to persuade Yu Baosi to join the Liangshan band, and had him implanted as a spy and conspirator in the Zeng Family Village. Yu Baosi helped the Liangshan heroes to conquer the Zeng Family Village and they avenged Chao Gai by capturing Shi Wengong and executed him.
When the Liangshan heroes attacked Dongpingfu, Yu Baosi and Wang Ding-liu volunteered to hand over the declaration of war to the governor of Dongpingfu, but were beaten up severely and chased out of the city. Eventually, the Liangshan heroes managed to conquer Dongpingfu.
Yu Baosi became in charge of the flags and banners in Liangshan and was one of the 72 Earthly Warriors. He participated in the campaigns against the Liao Tartars and southern rebels along with the other heroes after they had been granted amnesty by the emperor. He was killed by Du Wei, who threw his flying daggers at him in the battle of Qingxi Prefecture during the Fang La campaign.