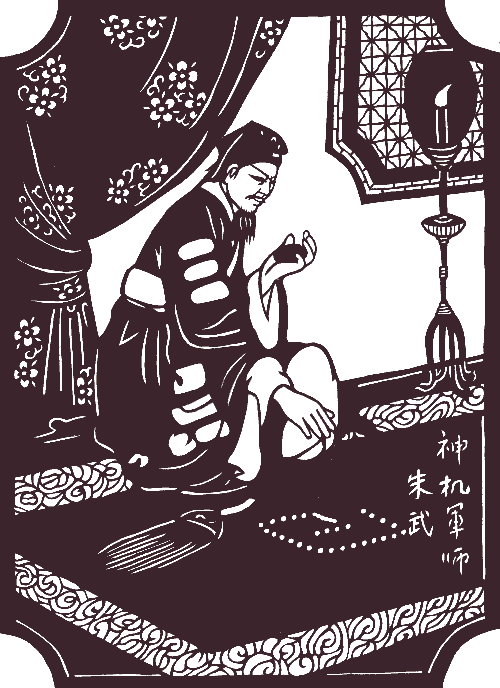 Zhu Wu(朱武) is a character in the epic Chinese tale, the Water Margin.
Zhu Wu was from Dingyuan, and became a bandit at Shaohua Mountain along with Chen Da and Yang Chun. He was born with blazing eyes, a handsome face and a long beard. He donned a Taoist's garments, and carried a fan similar to Zhuge Liang's. He used a pair of swords in combat, with a skill no other could match. Besides, he was also well-versed in the art of war and was full of stratagems, thus he earned the nickname 'Resourceful Strategist' (神机军师).
Once, Chen Da ignored Zhu Wu's warnings and went to attack Shi Jin's village, but was caught by Shi Jin. Zhu Wu and Yang Chun went to Shi Jin and pleaded with him to release Chen Da. Shi Jin was moved and he released Chen. Later, all four of them became fast friends. Li Ji, a hunter in Shi Village, reported to the local government about Shi Jin and the three bandits. The government immediately sent troops to arrest the four men. The four heroes fought their way out of the village back to Shaohua Mountain.
Later, Lu Zhishen wanted to invite the four heroes to join the Liangshan band, but found out that Shi Jin had been captured by Prefect He. Lu Zhishen was tricked into the prefect's residence and also caught. Zhu Wu notified the Liangshan heroes, who came to rescue Lu Zhishen and Shi Jin. Zhu Wu then followed the heroes back to Liangshan, and became one of the 72 Earthly Fiends.
Zhu Wu became one of the key strategists of the Liangshan band. He followed the heroes on their campaigns against the Liao Tartars and southern rebels. He was one of the few lucky heroes to have survived the campaigns. After that, he refused to return to the capital city for his reward, so he followed Pan Rui and Gongsun Sheng to practise Taoism, till the day he died.